01
ParkSide Offices
ParkSide Offices – planned to be completed in 2025 – is entirely conceptualized in line with ESG principles and offers 20,000 sqm leasable space. Its architectural focus is on greenery and community values. Both the exterior and interior spaces are defined by flexibility in fit-out and user experience.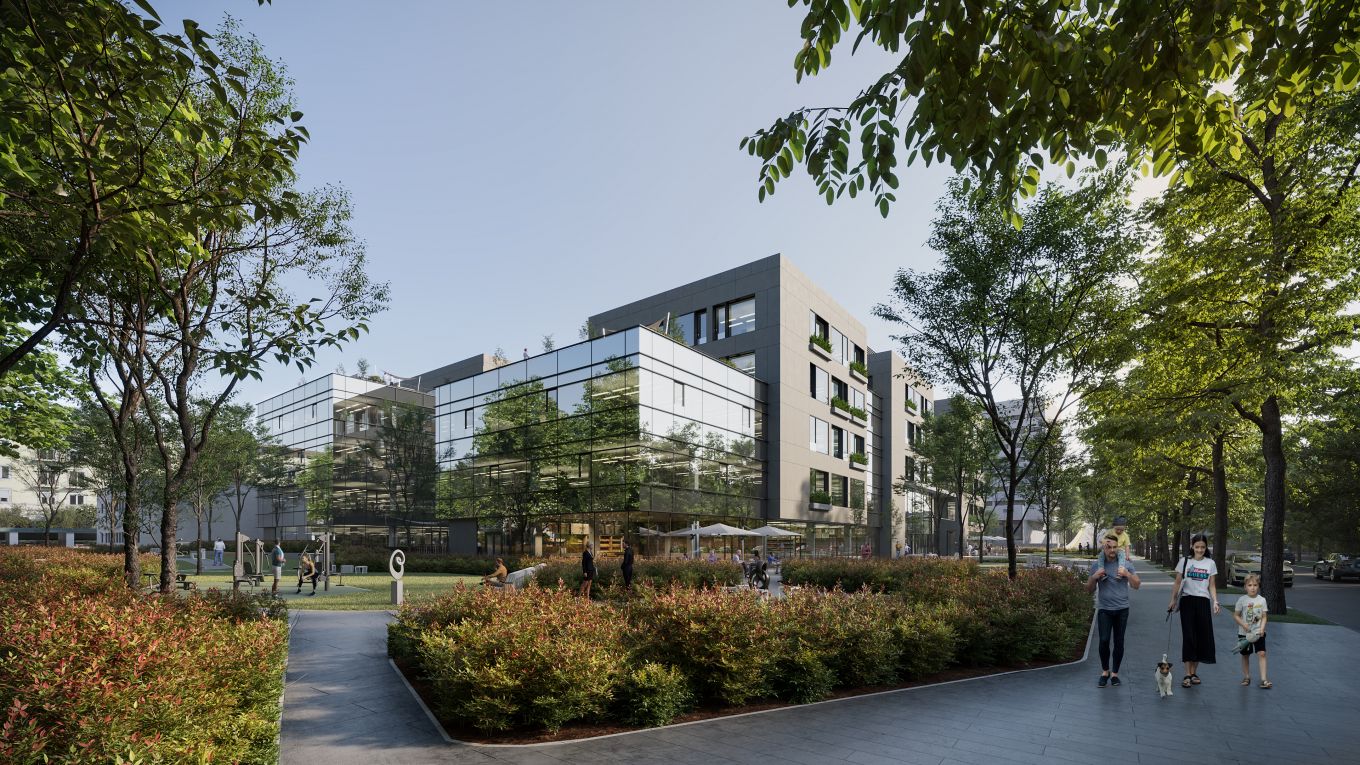 The proximity of a public park, a lake, and the predominantly residential neighborhood is a guarantee for a tranquil environment, while the wide range of public transportation options make the building easily accessible.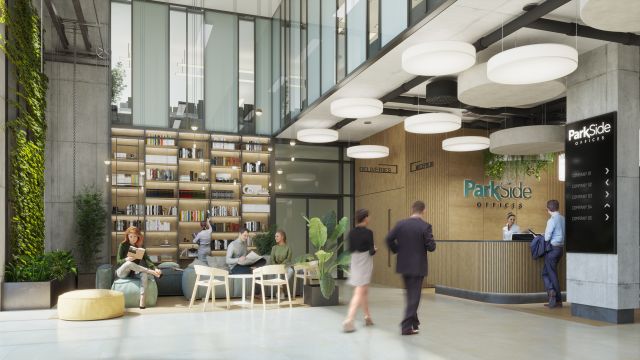 The nearby sports facilities and tennis courts contribute to the wellbeing of those working in the building. Several services and amenities are within easy reach, including a hotel, restaurants and stores, banking and postal services and playgrounds.

02
Villányi Gardens
Completely rejuvenated and technically upgraded by Q1 2023, 2,500 sqm Villányi Gardens is a GF+5 floor flexible office park both in terms of space allocation and rental conditions. Consisting of 2 building units, a cozy interior garden with lounge furniture, and 75 surface parking spaces, Villányi Gardens welcomes tenants who seek adaptability, high efficiency, and a great price-for-value ratio.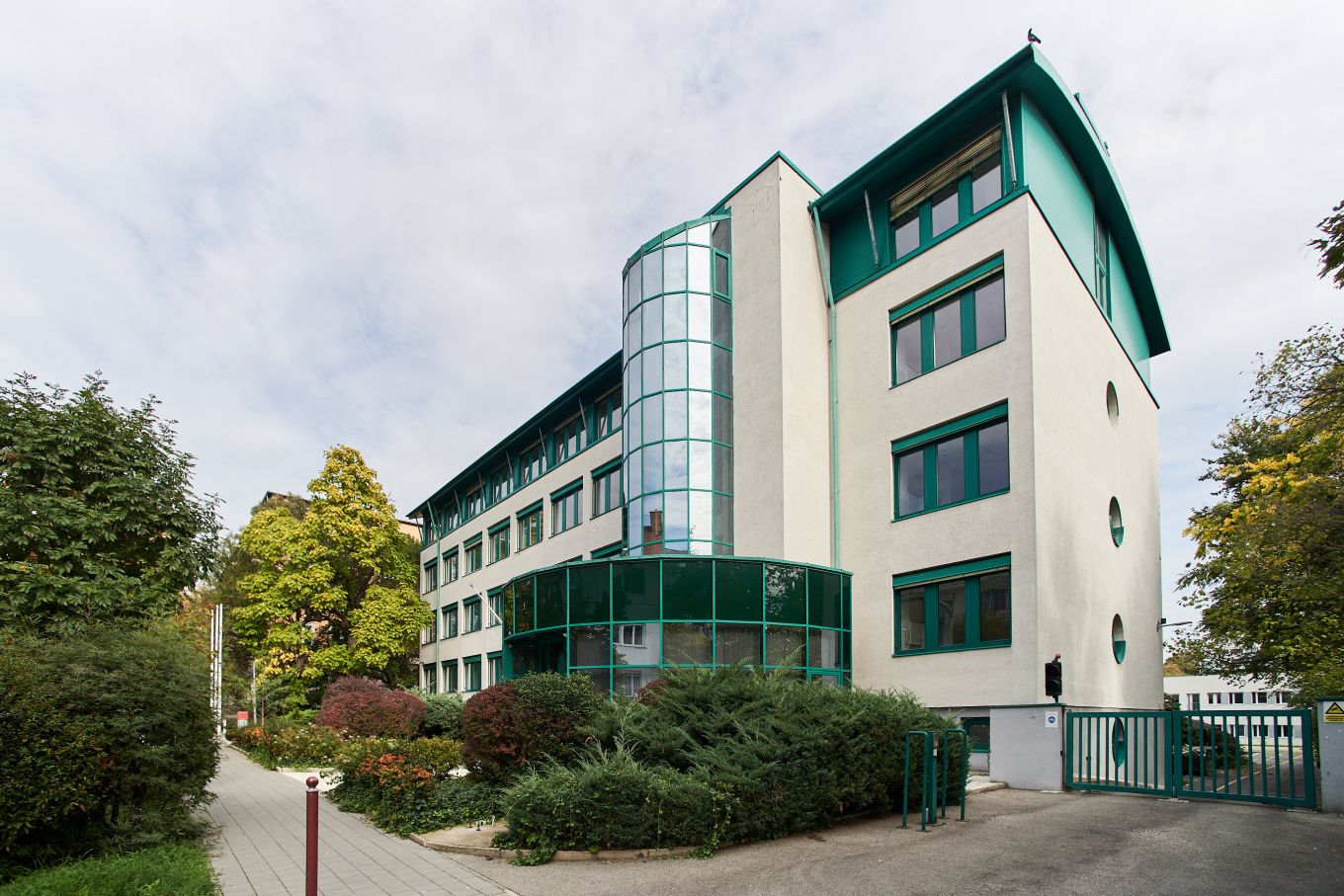 The office building benefits from the green environment and the wide service range of district XI, with Lake Feneketlen, Móricz Zsigmond Circle, Kosztolányi Dezső Square and Allee Mall in its close vicinity.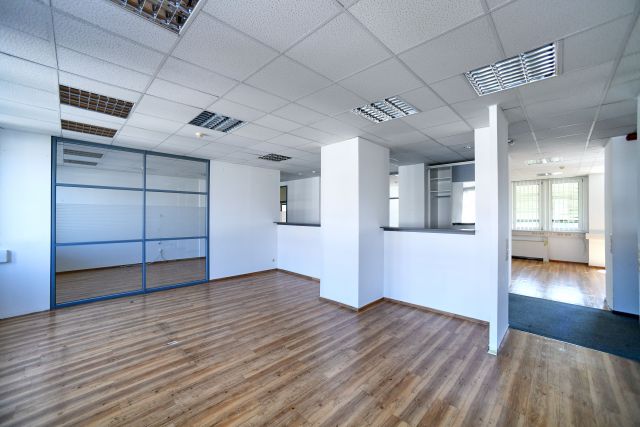 03
Szervita Square Building
Szervita Square Building is a mixed-use, sustainable commercial building in downtown Budapest, offering retail and office premises, as well as luxury residential units on 12,500 sqm from 2020. The modern 7-storey property with its unique shape, lightweight and ethereal structure, soft facade contours and reflecting surfaces fits organically in its historic setting. With its abundant natural light, functional and inviting interiors, flexible layouts, natural proportions, cosmopolitan ambiance, and excellent accessibility and visibility, it is an ideal office and retail destination in the CBD with maximum brand exposure, and the perfect setting for top-floor residences. Underground levels -2, -3, -4 and -5 accommodate both private and public parking.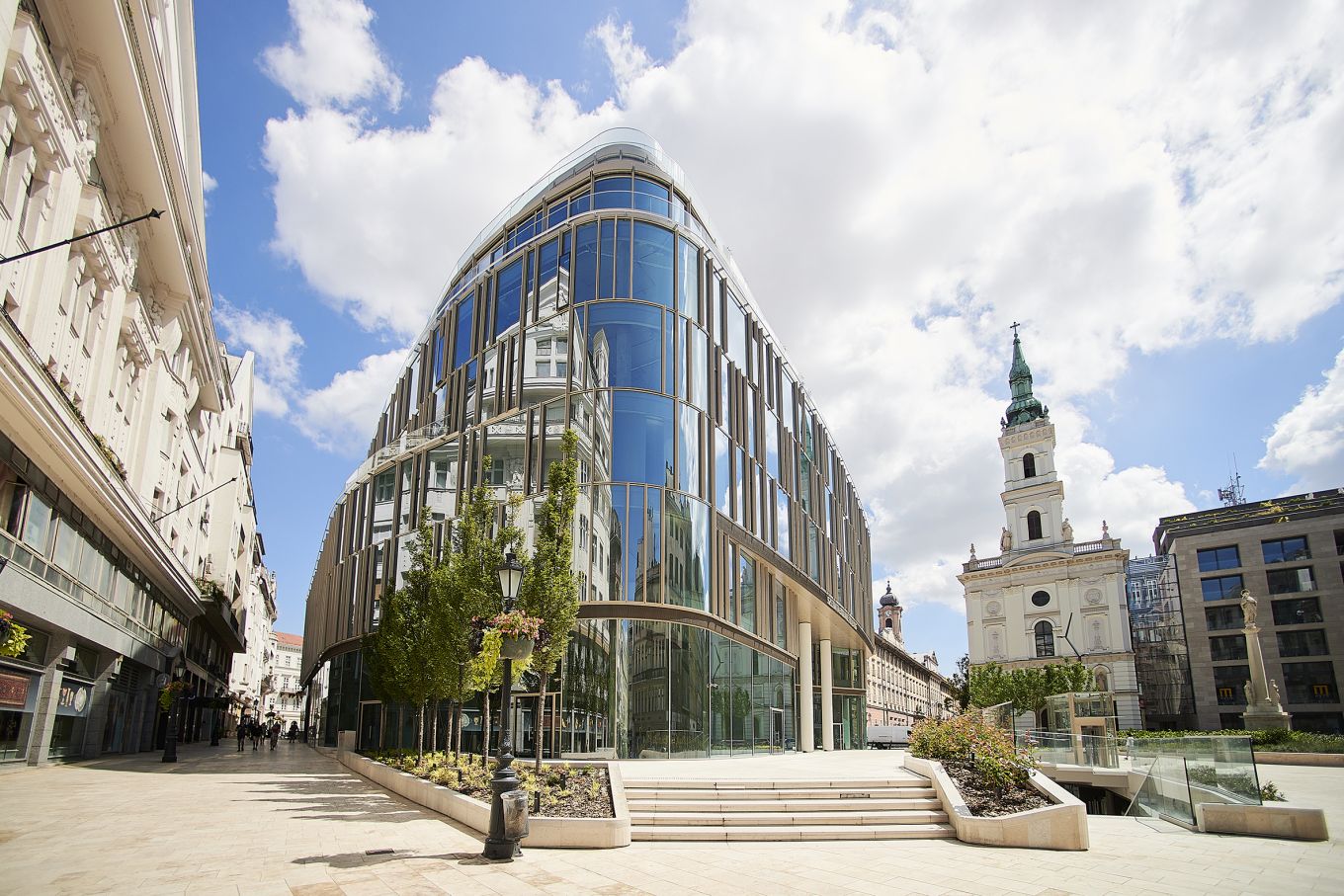 The over 90% leased property is exceptionally popular among office tenants, retail brands and those looking for a premium residential experience.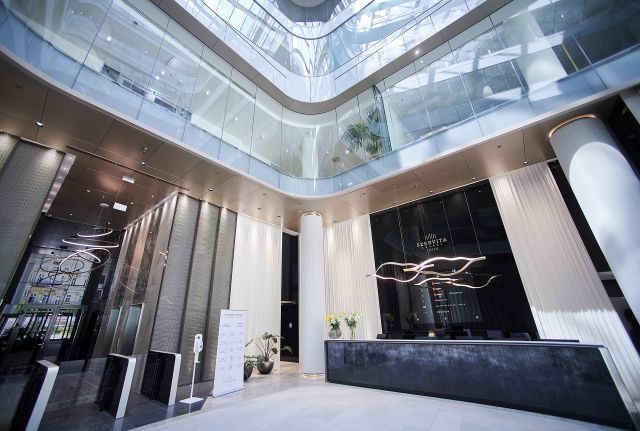 The developer revitalized the entire area and created a larger community space and public park, seamlessly connecting the building with its surroundings. The level spacing between different services and functions is an elegant, contemporary solution, contributing to a vivid social sphere in the very heart of the city.

04
Promenade Gardens
Promenade Gardens is a large-scale office scheme, a truly sustainable modern building of 25,000 sqm on Váci út, the main office corridor of Budapest, available from Spring 2018. It offers large, efficient floorplates (4,300 sqm) and a comfortable work environment.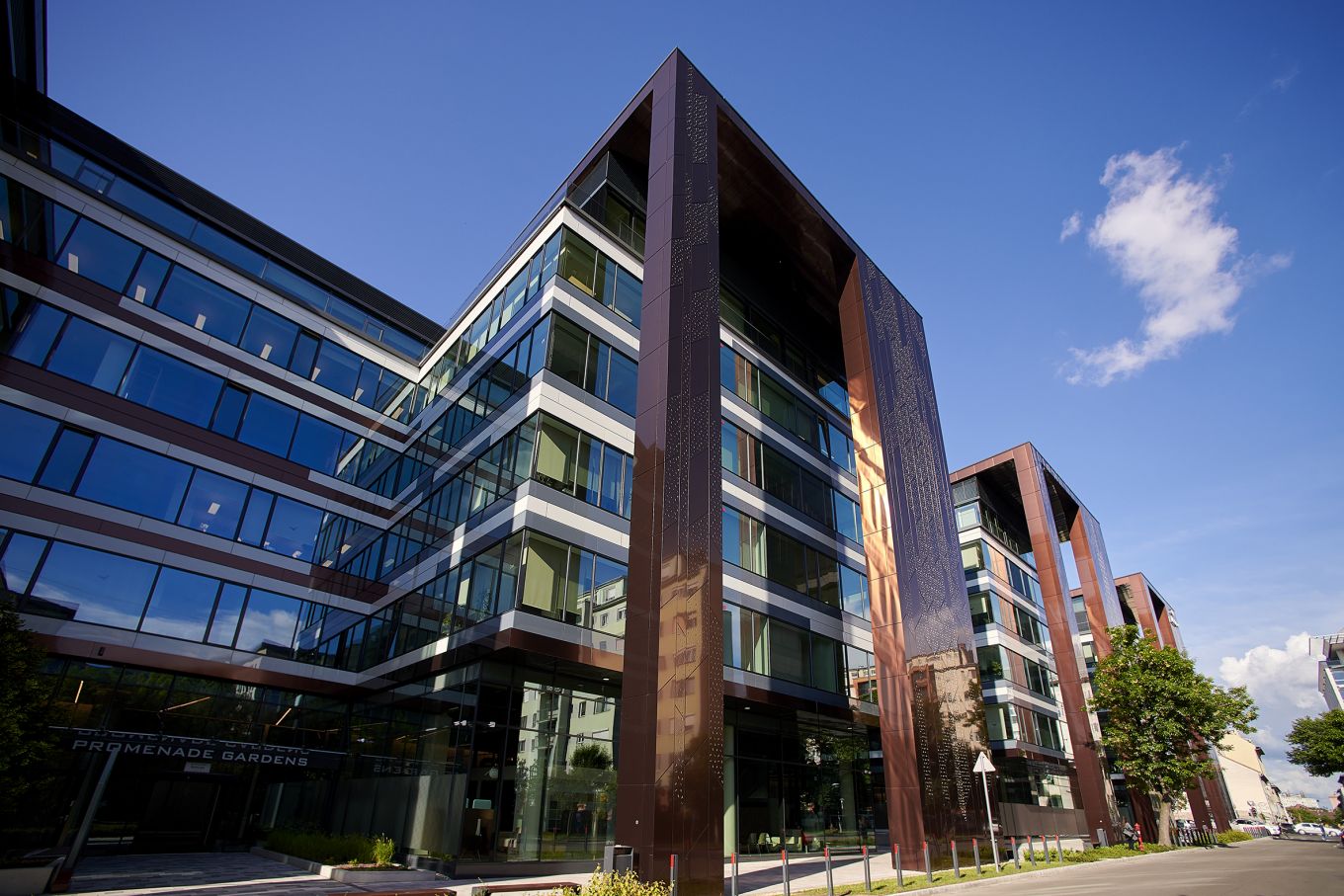 The inherent benefits of the location include its excellent accessibility and unique visibility, and a wide range of social amenities and services in the neighborhood. With its flexible office layout stretched out across 5 floors in 4 towers, it accommodates both horizontal and vertical expansion plans of dynamically growing companies. The above average clear internal height of 3 meters makes even denser seating arrangements comfortable and roomy.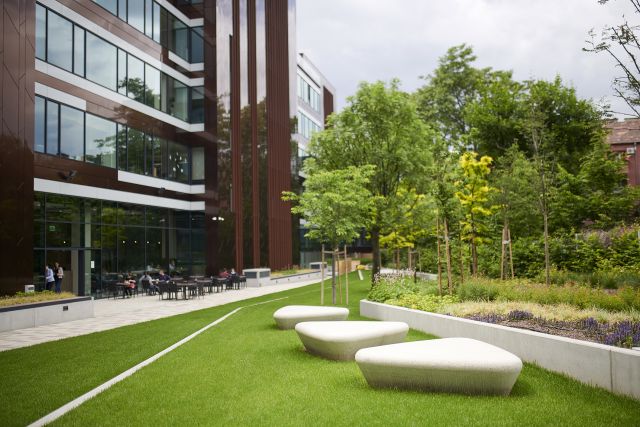 The ground floor area accommodates 3,000 sqm retail and office space. The landscaped internal garden with its water surfaces is an excellent open air scene for casual meetings, great conversations and refreshing lunch breaks. The LEED Gold and BREEAM Very Good ratings of the building are a guarantee for an employee-friendly, healthy work environment, and a true acknowledgement of technical excellence enabled by the most innovative green features.

05
Váci 1
Váci 1 is an exclusive mixed-use commercial building in downtown Budapest, offering a truly unique shopping and work experience on 13,750 sqm in an ideal city center setting from June 2016. The UNESCO World Heritage listed building – constructed between 1911 and 1915 – was the historic headquarters of the first bank in Hungary, and later home to the Budapest Stock Exchange, from 1990 until 2005. It combines turn of the century interiors with modern spaces.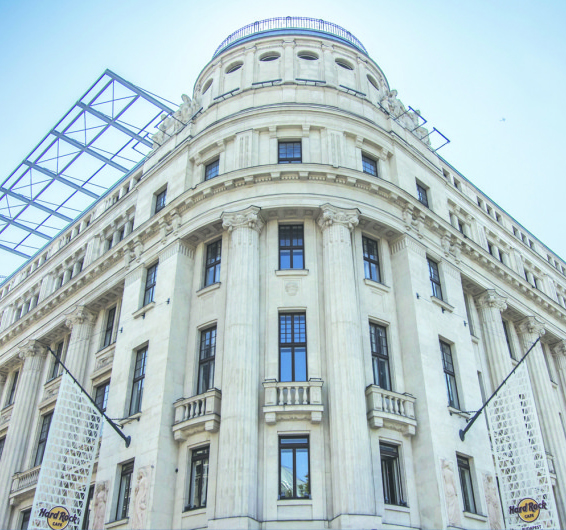 Horizon Development authentically restored the building's historic elements, and created the most breathtaking setting for the flagship store of its anchor tenant, H&M. The renovated palace is 100% leased to H&M, Hard Rock Café Budapest, the traditional confectionary of famous Szamos chocolatier, DVM group, St. Andrea Wine & Skybar, Mastercard, Cushman & Wakefield, OTP Bank and Play'n GO. Prime office space on 4 floors accommodates tenants who appreciate the premium CBD location and the air of prestige of the property for being energizers of their business. The St. Andrea Wine & Sky Bar on the 6th floor offers the most spectacular views of Budapest: Vörösmarty Square, Fashion Street, the river Danube, the Budapest Eye and the Buda Castle.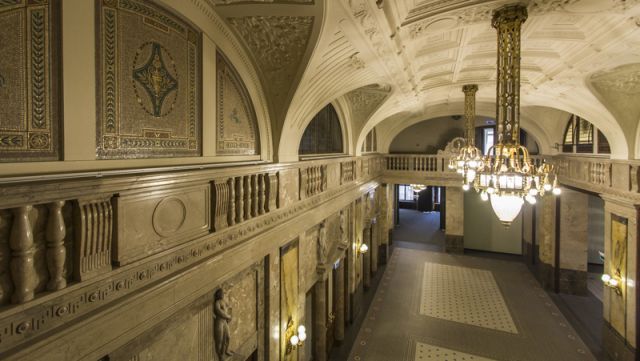 The implementation of a new development concept for the modern parts of the building accommodated a partial change of building function from a pure retail scheme to a mixed-use commercial property. The optimization of vertical and horizontal traffic within the building enabled high efficiency for both the office and retail functions. The sustainable solutions incorporated by the developer contribute to the property's optimal energy and water use and reduced environmental footprint, and entitle Váci 1's commercial interior for its LEED Gold certificate.

06
Eiffel Palace
Completed in 2014, Eiffel Palace office building is a unique property in Budapest that excels in historic preservation, urban planning, sustainability, and financial success. Formerly home to Pesti Hírlap and the Légrády/Zrínyi Printshop, the authentically restored corner building organically combines 19th century architectural elements with modern technologies and offers 14,500 sqm of total leasable space in the CBD.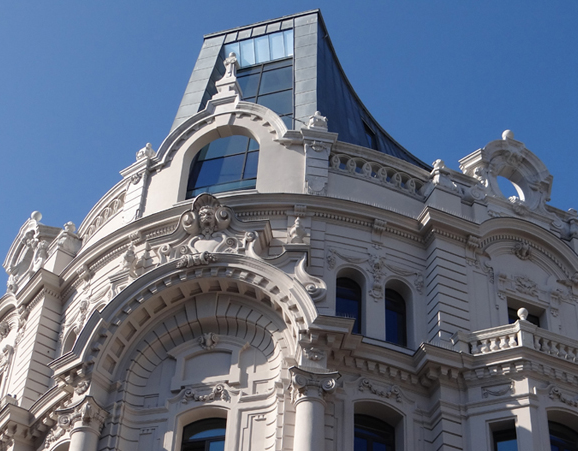 Boasting a 100% occupancy rate, Eiffel Palace houses the offices of PwC Hungary, CBRE, Apple, the Hungarian National Bank, the British Chamber of Commerce, and services including St. Andrea Restaurant, Eiffel Bistro, Eiffel Esthetics, the Wax in the City studio, and an in-house conference center.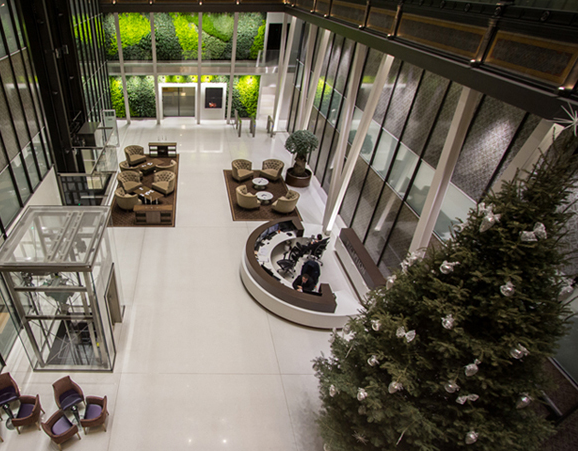 The building received two environmental certificates, the LEED Gold and the BREEAM Very Good ratings.

07
Eiffel Square
Eiffel Square is a prime office development of international awards in CBD Budapest, with a mixed commercial function of office spaces, retail units and services on 25,000 sqm, available from 2010.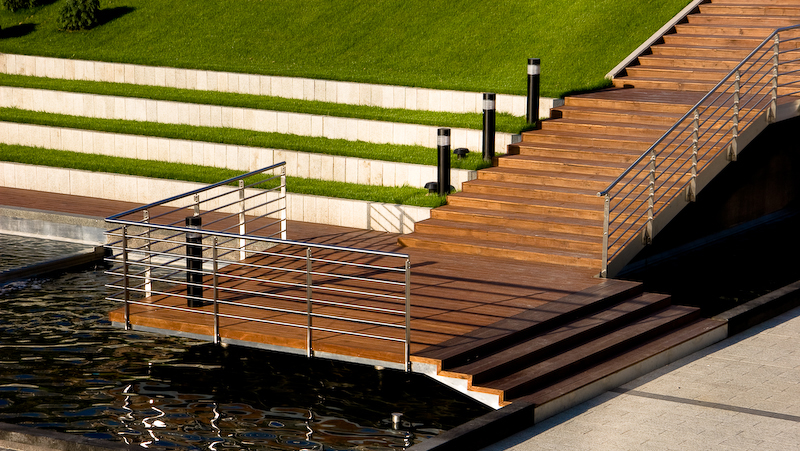 The 5-story office building is located at the intersection of two main arterial roads. Its close proximity to Western Railway Station and Eiffel Square (a popular public square) generates substantial foot traffic for the variety of services the building houses. Restaurants, cafés, a medical and dental center, a seasonal ice rink, a supermarket, a bank center and a car was facility await their customers here. When it comes to the original development idea, the project's main drivers were efficiency and flexibility, two important criteria that the building certainly delivers on in terms of accessibility, the fit-out options of its interiors, the sustainable solutions it features, as well as its overall technical quality and operational excellence.
With its clean, contemporary design and bluish glass façades reflecting the historic surroundings, Eiffel Square office building creates an organic unity of old and new architecture. It also fulfills its role as a community meeting point, being a buzzing social space surrounded by the greenery of the neighboring park.

08
Marczibányi Sports Center
Marczibányi is an 11,500 sqm sports complex situated in the exclusive 2nd district of Budapest, offering a wide range of indoor and outdoor sports activities to the general public since 2009.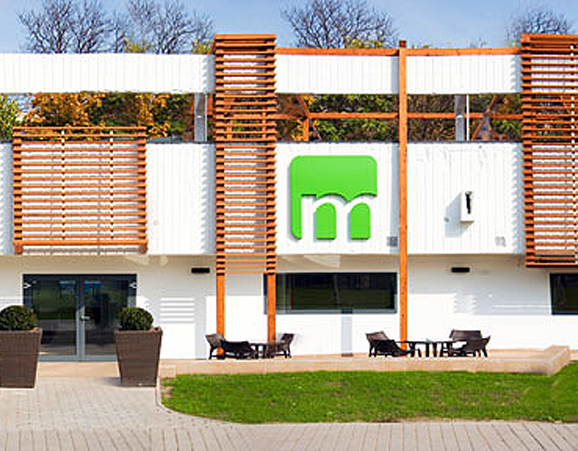 The facilities range from football and tennis courts and running tracks to playgrounds, fitness rooms, wellness areas, and even a seasonal ice-rink. The sports complex is a popular venue for family gatherings and corporate sports events. The main building of 1,000 sqm is an ideal recreational area with a unique interior and wellness services such as a bio sauna and sports massage.